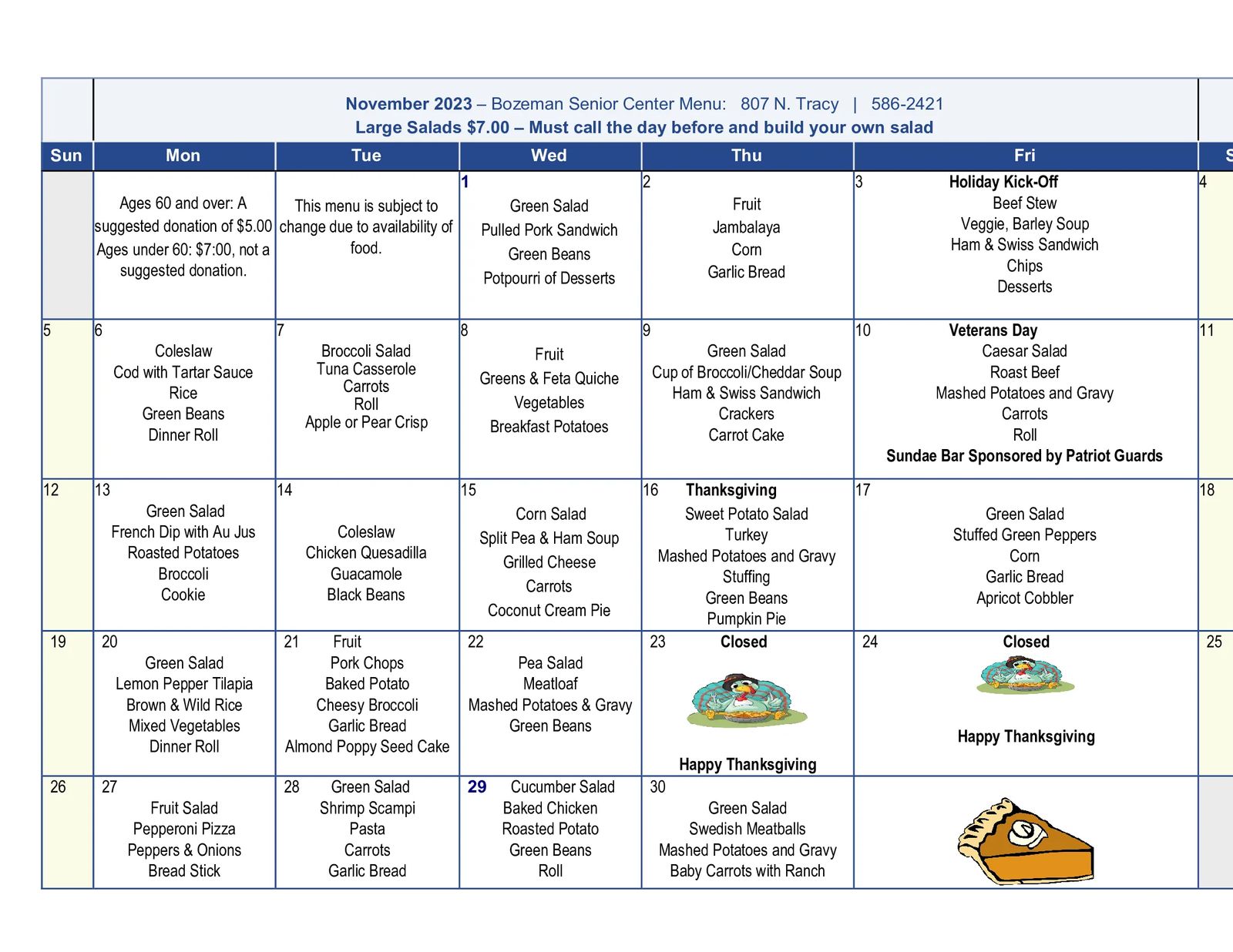 Nutrition Programs
We provide walk-in meals, special suppers and services like meals-on-wheels and access to commodities based on income. The center also administers funds and commodities for Gallatin County senior meal programs in Manhattan, Three Forks, and West Yellowstone.
Nearly one in every six seniors in America faces the threat of hunger and not being properly nourished. To learn the facts behind senior hunger, click here: Aging in Place - National Council for Aging Care.
Bozeman: Walk-In-Meals are prepared in the center's kitchen and served from 12:00 noon to 12:15 p.m. in the dining room Monday - Friday except on holidays. The various food selections are designed to provide delicious and nutritious meals for seniors; diabetic meals are also available. Reservations for meals should be made one day in advance at the front desk or by phoning 586-2421. The Meals-On-Wheels are delivered by volunteer drivers to homebound seniors living in the Bozeman city limits. Frozen meals may be delivered in advance for weekends and holidays by request. Diabetic meals are also available on request. Arrangements can be made to pick up bulk frozen meals for individuals living in rural areas throughout Gallatin County.
Three Forks: The Three Rivers Senior Center is located at 19 Cedar Street in Three Forks. Meals are served Tuesdays, Wednesdays, and Thursdays at noon. Meals-on-Wheels are delivered in Three Forks and Willow Creek on these same three days. Please call 406-285-3235 for more information.
West Yellowstone: The Povah Community Center is located at 10 Geyser Street in West Yellowstone. Meals are served Wednesdays and Fridays at noon. Meals-on-Wheels are delivered on these same two days. Please call 406-646-7481 for more information.
Supplemental nutritional programs include commodity food distributions, and farmers' market vouchers.